Disclaimers:
This is an introductory blog post to Data and Knowledge Engineering (M.Sc. DKE) in Otto von Guericke University, Magdeburg; or what people generally call "Data Science" masters course in the University of Magdeburg in Germany.
We assume that you've got an acceptance letter already. In this blog post, we will very, very briefly discuss how it works in the German education system (how different from the education system, I've previously been in) and how it relies on the area(s) of interest. The third and the fourth part deals mostly with information specific to Otto von Guericke University M.Sc. DKE course.
Also read: To an International Student.
German Education System for (Indian) Dummies!
Scientific methodology: Get introduced to scientific methods and make it your lifestyle. It's important!
Credit System: You will have to choose from a variety of courses, most or all of them would be optional. You choose courses based on your area of interest.
Each credit point translates to around 30 hours of study, given that the aspirant has the prerequisite knowledge. That's 180 hours of study for a 6 credit course.
Studying is the job of the student; if s/he has any queries, s/he should approach the professor. There should not be any hand-holding or spoon-feeding.
Constructive criticism is very appreciated, and the faculty welcomes it.
Long answers do not fetch you more marks. Specific Keywords in answers, help.
There are no "campusing"/ on campus recruitments; getting a job is a students responsibility.
Having an Area of Interest!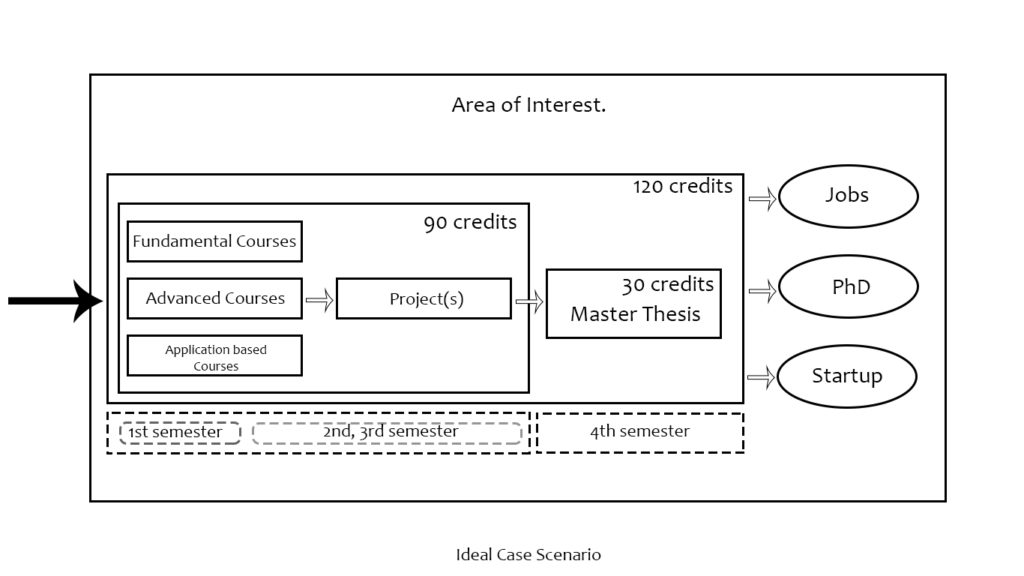 It is very recommended that you have an area of interest, something that motivates you to do your M.Sc. If you are not sure about what your area(s) of interest is, you might want to check this post out.
Disclaimer: This runs on the very basic assumption that you would appreciate to study things you are interested in and take up a job or do research on something you like. It is perfectly all right if you do not have an area of interest, yet.
There is a big list of courses from which you are supposed to choose your courses. The courses are expected to align with your area of interest. The course content would most probably be theoretical with a couple of programming assignments. This is your time to explore your area of interest.
Based on the fundamental courses, choose the courses which are advanced, or which requires implementing the concepts. If you are undecided about your area(s) of interest, take the fundamental courses from a range of options, the main purpose of which would be to just explore areas. Based on that, take the advanced courses. Use You will be required to do a project where you implement the concepts by coding. So till this point in time – ideally you've done fundamental courses, a couple of advanced courses and a project aligning to your area of interest.
You'd then be required to do 30 credits worth Master Thesis. Master Thesis is a Big Deal. Ideally, start preparing for it at the earliest. The Master Thesis shows your analytical skills and might be critical in getting you a better pay package, should you decide to do a job. Discussions and perceptions about master thesis should ideally by another topic.
What after master thesis and how does the German education system assist you? If you want to pursue a PhD, the professor is there to guide you with the necessary details. Else there's always Google.
If you would want to either start up your own business or work in a startup, the entrepreneurship centres help you do it. In OVGU, its TUGZ. Most universities have one centre for themselves, you can check the Exist.de Network. They help you understand the startup ecosystem, Intellectual property rights, translate your idea into your business. Even if you do not want your own startup, this is a good network you might want to be in, to know about the startups.
The German Universities (which are not institutes for applied sciences) ideally prepare you for scientific work. But outgoing students do get a job. The best case scenario is you get a job related to your area of interest and can show your master thesis topic and the projects. There are portals similar to linkedin, for Europe. One of them, you should be introduced to is Xing.
About the DKE course in Otto von Guericke University, Magdeburg.
Embedded below is a video which serves as an overview of the DKE course in the university. The interviewer is a student from India and the interview is of Professor Myra Spiliopoulou, who is the course coordinator of the Data and Knowledge Engineering.
The current course structure which would be implemented from the Summer Semester 2019 is as follows:
Total Credits to be completed (minimum) before registering for the Master Thesis is 90; of which minimum 1 should be a 6 credit project.
Disclaimer: This information might not be true for the future batch. If you are reading this and you are from a future batch, please check with the official website(s), links of which are given below.
First Webinar of SI@FIN:
Important Official Links…
Other related reading: