Holi in Vrindavan & Mathura | Arghyadeep Roy and Anirban Saha | 27.03.2016 
Radhe Radhe.
The Holi in Vrindavan and Mathura is already spoken much about on all travel and news portal. We could hardly add anything new to it. We could perhaps share our experience and we must say it was great!
For those who still believe that Holi in Vrindavan and Mathura, the birthplace of the tradition must be a peaceful affair like the ones in Shantiniketan or ISKCON, hold on. Take a break. We'll tell you it is not.
A. You could perhaps protect your camera wrapping it in a plastic cover, making sure not a single dust of colour enters it. When you are all sure and you start walking with your head held high with perhaps the biggest and the most confident smile on your face, a monkey might just appear out of nowhere and snatch your spectacles away. Don't worry, even before you'd realise what had happened, a group of people would be surrounding you apparently trying to help you get your specs back, but in reality, would scare the monkey away.
Tip: Carry a packet of "Frooti" with you. Monkeys love Frooti more than bananas.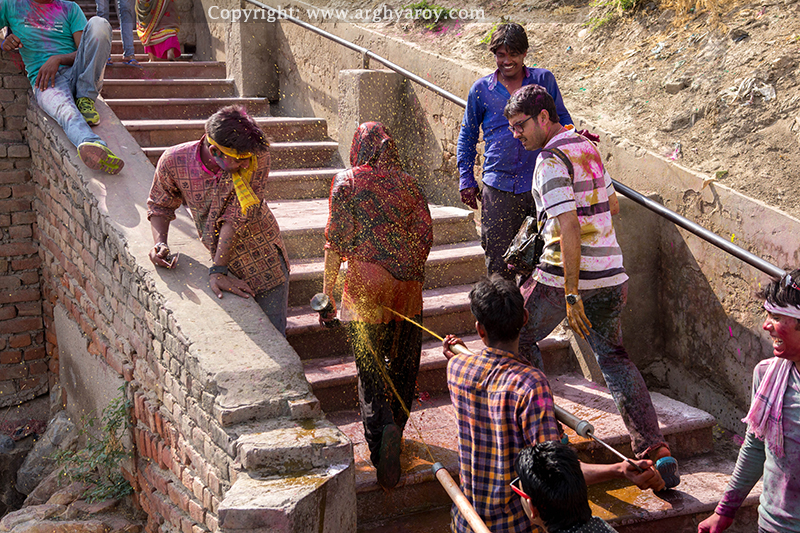 B. Boys make this an opportunity to touch women all over with colours with either a sly smile on their face or "Radhe Radhe" on their lips. Or they could perhaps point their water gun at the women and spray colours on them. All in the name of God.
Tip: It's a place, where molestation in the name of the festival is possible, so be careful?
C. Is that why there is a "Lath Mar Holi"? That's a tradition where the men from Nandgaon would try to colour the women in Barsana and the role of the women is to beat the men up with sticks. Umm, they take this up really seriously.
Tip: If you are a photographer, use a zoom lens and stay far. The lanes are narrower than the bylanes of North Calcutta and there are just too many people. The ladies there aren't considerate enough, your lens might get shattered into pieces.
D. Okay, don't laugh at this: The following day, the women of Barsana go to Nandgaon to play Holi and as per tradition and natural instincts, the men tease them anyway. As per tradition, the men again get beaten up.
Tip: If you are lady photographer, not only should you carry your lens, you should also carry a rod or something equivalent
Information #1: Lathmar is celebrated in the entire of "Rangeela Gali", so do not just stick to one place.
Information #2: Not only do they not know what traffic rules or traffic lights are, you would not even find a public toilet. You could perhaps knock on a door, smile and ask for permissions. You'd be a happy man if you get a smile in return. Else, try another door.
E. Try out the local food: If you are from Kolkata, you'd not really be surprised. Except for Aloo Paratha, you'd find everything in Kolkata and that tastes better than that in Vrindavan. The Aloo Paratha there costs a bomb but it is worth it. You'd find a variety of sweets which tastes very good and is full of Ghee. PS: Everything is vegetarian there.
F. If you are scared of cows, Vrindavan is not the place for you. In any one of the bylanes, a cow might just appear from nowhere, right in front of you demanding food. You are expected to smile, pat (or cuddle) (if possible worship) and offer the cow some food. If you do not find cows in the bylanes (which would not happen), you'll not miss them. The smell of the dung would keep you anticipating. PS: Cows are anytime better than monkeys who take your spectacles aways. So be thankful and worship.
"Banke Bihari Lal ki.. Jai!"
G. Banke Bihari Temple: If your idea of a Vaishnav is that of a soft spoken, kind hearted, demure man who does not get angry, move over ISKCON and welcome to Banke Bihari Temple. 50 metres from the temple you'd find young devotees dancing to Yo Yo Honey Singh and throwing Gulal in the air. Gulal is powdered colours by the way.
You do not need an extra effort to get into the temple. All you need to do is to manage to stand somewhere near the gate (20 metres radius is enough) and visualise God and pray to him. Pray to Him to keep you alive till you are pushed out of the temple. Once and if you are out alive, thank Him for his Supreme graciousness.
Arghyadeep calls this "the human grinder". If the rush of the Mumbai local train discomforts you, this is slightly more than double the rush. BUT if you ignore the crowd, the experience inside is divine.
The moment you enter the gates, you are pushed by the crowd towards your right. You'd oversee a huge courtyard full of heads, the voices screaming "Banke Bihari Lal ki…" and "Radha Rani ki…", while the enthusiastic rest would thunder "JAI!". Flower petals are thrown from the balcony above.
Information:
A general Holi celebration in Banke Bihari or any small temple can be broken into three parts.
The first is the "Phoolon ki Holi" or the Holi by showering flower petals. Second would be the play with Gulal or powdered colours. The third involves water, colour mixed in warm water with everyone spraying it using water guns.
Tip: Camera protection is a must. Ask any experienced photographer or just Google. There's just enough resources that would help you.
PS: People there understand Bengali. If you are a Bengali, just speak to them in your mother tongue. All instructions were written in Hindi which I had very willfully ignored. Later was taken to the guards where I tried to put my case forward in Hindi. I spoke a lot of Hindi which they could not make the head or tail out of. Then I spoke in Bangla. Surprisingly they understood. Not only did they understand, they also let me get to the first floor and photograph.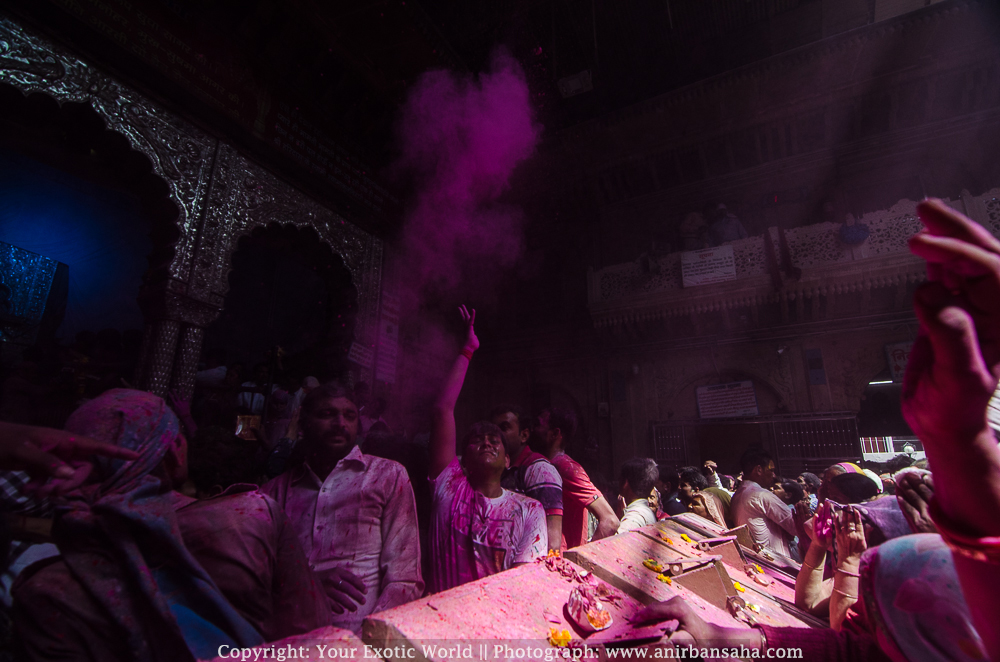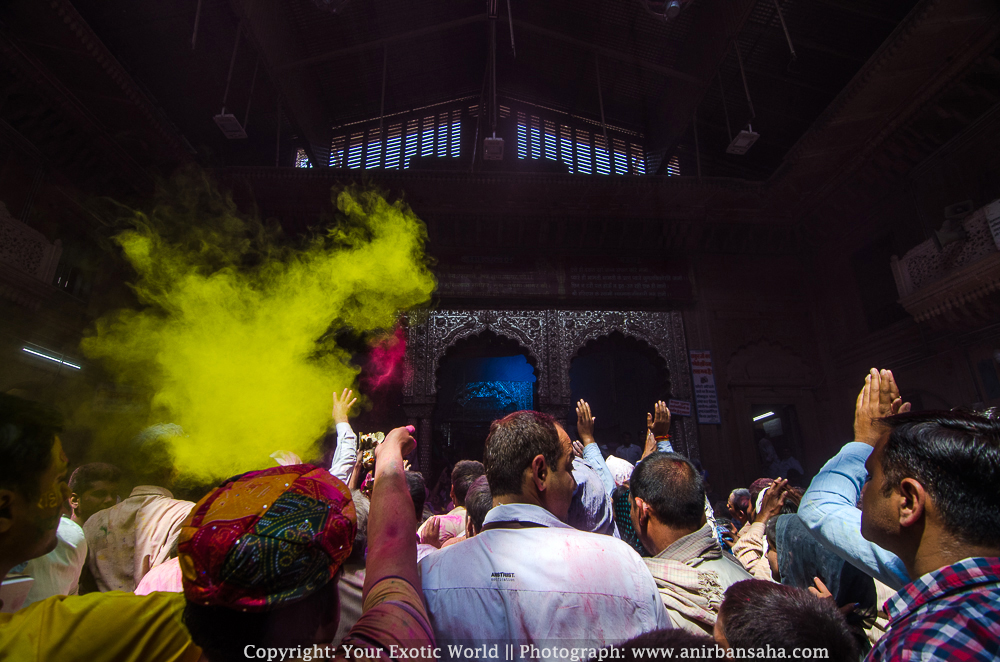 H. Just beside all the rush, flows the almost empty Yamuna river. The little bit of the water that is believed to still exist is being used to wash buffaloes and cows. Move your attention from the cows, buffaloes and pigs. You'd find the only one place which is peaceful. It is not a temple. It is a library. Yamuna Kunj. We entered that place and were quite amused. Just after entering the ashram, I saw idols of Jagannath kept. I wondered why would Vaishnavs of Uttar Pradesh do that? A little into the place I discovered calendars, pamphlets and instructions written in Bengali.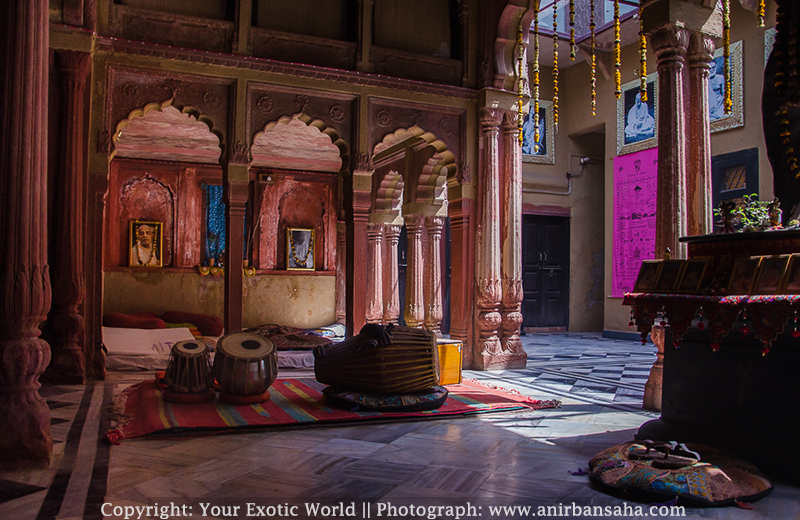 This is a place of World Vaishnav Association who are followers of Sri Sri Chaitanya Mahaprabhu. It is present in more than a hundred countries, primarily in Southern America, devotees of which resided inside the ashram.
A kind hearted young monk took us around, to places either discovered or impacted by Chaitanya Mahaprabhu.

"Govind bolo Hari Gopal bolo. Radha Raman Hari Gopal bolo."
I. Radha Raman Temple: This temple was established towards the end of sixteenth century by one of the direct disciples of Chaitanya Mahaprabhu of Bengal. Chaitanya of Bengal spearheaded the Bhakti movement and the revival of Hinduism in India. From Bengal he went to Vrindavan to bring the remains of Krishna back to life.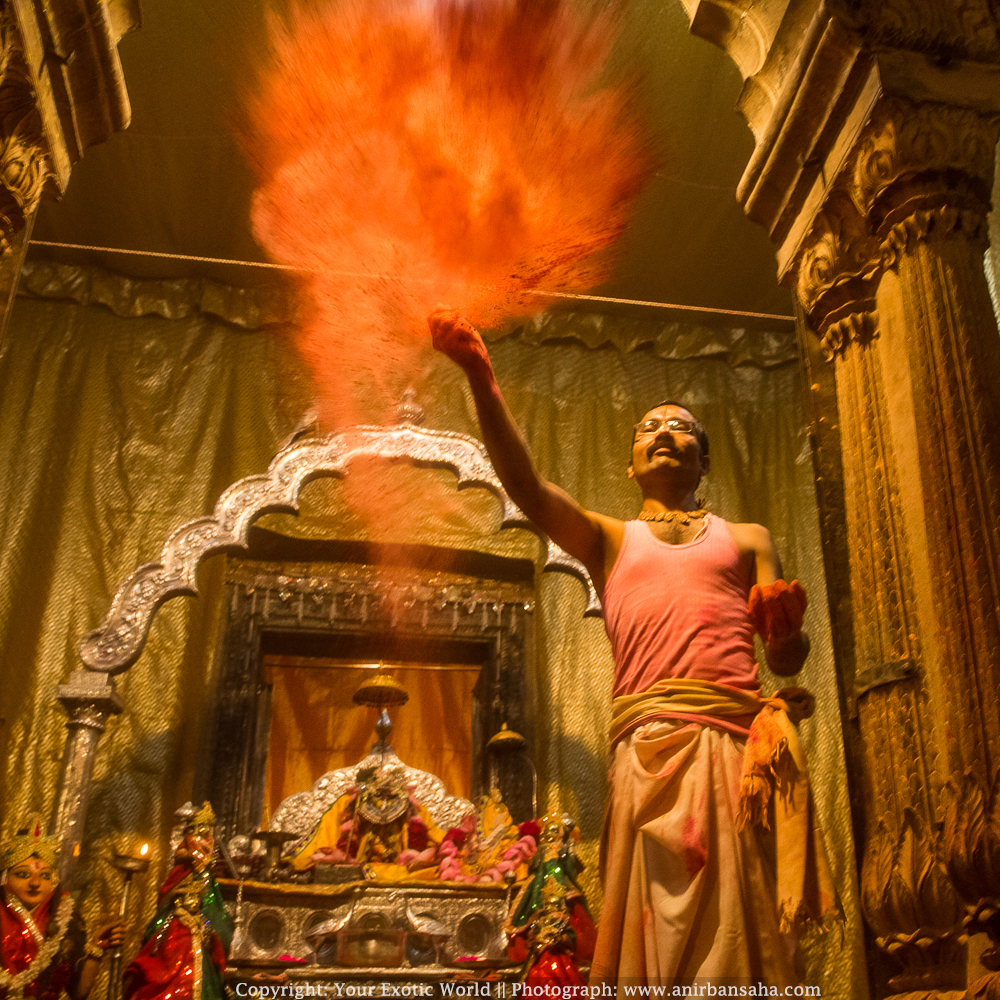 History aside, this place would offer to you what Banke Bihari would not. Peaceful Holi celebrations and strict yet smiling administrators. If you are a photographer who is even the slightest threat to the serenity and the decorum, you'd be instantly asked to leave the temple complex with a stern look and a sweet smile.
With not too many people, the Holi celebrations take place after regular evening worship.
Tips:
a. Please be properly clothed.
b. Do not show your back to the Deity.
c. Do not disrupt the proceedings. Do not disturb any devotee.
d. Even when you are sitting, do not show your feet towards the Deity. This is an act of disrespect and you could be asked to leave the temple.
J. Widows Holi: I'm not sure how your perception of a widow is. The first image of a widow that comes to my mind is that of my grandmother. My grandfather had passed away six years before my birth and I had always seen my grandmother as a widow. Not in any of my imaginations could I associate my grandmother with "Balam Pichkari jo tu-ne mujhe maari, toh seedhi saadhi chori sharabi ho gayi" and picture her dancing to it.
Possibly the widows there did not even know what is being played. More than the widows, I was amused to the limits of being offended by the way the photographers were behaving.

A note to the photographers! 
To start with, photographers are not supposed to disrupt proceedings or ask their "subjects" to go out of their way to make their photograph. If a person is dancing, you can ask her to repeat a step once more and that should be the maximum a photographer should go. A photographer is not supposed to ask a disinterested widow to dance for them because she looks dramatic. A photographer is not supposed to ask a widow to lay down on a bed of flowers so that they could photograph her like that.
According to Arka Dutta dada, a few years ago when the celebrations happened in some other place, a widow could not manage to find space for herself to rest. That is why she had to lay down near a heap of flower to take rest. Now when the venue is changed, there is a lot of space. Moreover when I saw someone falling down and a lot of people gathering around her, I thought a widow had fainted. I cursed the photographers for being insensitive and not calling for medical help. Then I discovered that the lady was posing for photographs. That was a total facepalm moment for me.
Previously even I had asked a few people to try something out for me. Example: The kid during Durga Puja. He was bathing in the river and I had asked him to take one more dip. The monk in Sikkim was already standing there in front of the candle. It looked disbalanced and I had asked him to light the candle. That was my limit of manipulating my subject. I am proud that friends like Koustav Ghosh regularly brainstorm with me and keeps me in check.
To me photography is more about representing the truth than creating it. To me, observing is primary and photography comes second. I'm sorry I might never be able to become a photographer.
Tips: This is the wildest of the Holis in Vrindavan. People can be as near as half a meter from you and yet throw at you heaps of colours and resume dancing. Towards the end, it wasn't really only widows. There were married women, girls, men and very young boys. By the time I managed to escape, my lungs had more colours than you would have required to play Holi in Kolkata.
Most of the widows there are very grandmotherly. If you behave well with them, they'll take you to their discussions or perhaps crack a joke or two with you.
That would be all from our end for now. But before I end this post, I need to acknowledge a few people.
Srivatsan Sankaran and Rajatabha Ray: Srivatsan almost coerced me into this. Finally, when Rajatabha wanted me to go with him, I decided to go.
Svetlana di & her parents: I thank you for arranging everything for this trip.
"Your Exotic World" is an upcoming travel portal by travel bloggers and photographers. They were my sponsors. It is a pleasure working with them.
Arghyadeep Roy: He is a 17-year-old student in Delhi now, an alumnus of Calcutta Boys School. I know him from 2013. Even as a kid of class 8, he inspired me and helped me. I made him a co-presenter when I was invited to The Frank Anthony Public School to conduct photography workshop. Considering his age, he is way sorted out, mature and I know he would continue inspiring me. It is an honour when he treats me like his own elder brother. He blogs at www.arghyaroy.com
Esha Chatterjee: Thank you for proof reading and finding for me colours!
Upasana Dasgupta for re-phrasing a few sentences in this article.