Okhla Bird Sanctuary is on the bank of river Yamuna, in Noida. It is easily accessible from Delhi, obviously and if you like birds and are in Delhi, maybe give this place a quick visit! Guess what? I saw peacocks here!! Since the internet is rife with information about the Okhla Bird Sanctuary, I find no reason why I should repeat the content that is already on the internet. Instead, I would just paste photographs!
Delhi has a few Biodiversity parks, the list of which you could find here. Okhla Bird Sanctuary isn't one of them. It apparently opened recently, despite being marked over a decade ago (link). It is located on the banks of river Yamuna when the river enters Uttar Pradesh. It comes under the Noida administration. It is a considerably small 4 square kilometers space; opens at 7 am and you can find the other relevant details here. Phew, done!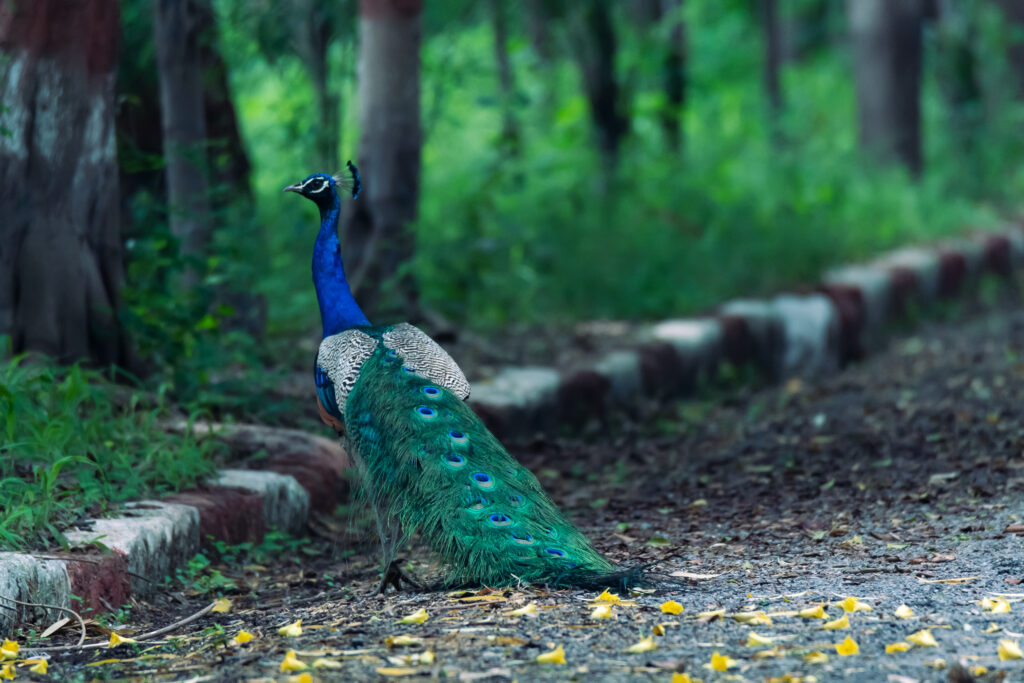 While the entry fee to the Okhla Bird Sanctuary is ₹30, the camera fee is ₹500! I would like to believe that this discourages poor bird photographers like me from going there. It however encourages human love birds to infest the area from when they manage to wake up in the morning. Haha! This is in stark contrast to the Chintamani Kar Bird Sanctuary in Kolkata where the entry fee is ₹120 but there is no camera fee. I believe the Government of Uttar Pradesh should not take the camera fee and encourage more bird photographers to explore the area. The more they explore, the more free publicity the Sanctuary would get among bird lovers on social media.
The park area where people come to walk and spend time with their love interests is very well kept. The path to the watch tower, however, is horribly maintained. I wish the Government takes small little steps to encourage birders to go there and polish the packaging up.
How was my experience? I'm glad you asked. My friend Manish drove me to the Okhla Bird Sanctuary and we reached there at around 7:20 am. It was drizzling. The ticket counter was not open and the person there was not very happy that we came. It was funnier than he was offensive. We had a good laugh. We walked from gate 1 to watchtower 1. You could see a range of resident birds during the off-season, which is now. From the Jungle babblers which wouldn't leave you, to Coppersmith Barbet, Purple Sunbird, Green bee-eaters, Blue-Tailed Bee Eaters, Red-vented Bulbul, Red-whiskered Bulbul. On the river bed, you could see easily the Cormorants and the Herons. I could easily see the White Throated Kingfishers fly from one end to another and chilling at some places. Occasionally, you could hear the Peacock but not see them. It would irritate you to the point you would get angry. You could hear them but not see them. But you would keep walking.
After crossing Gate 2, things would get a little intense. There would be cows, buffaloes, dung, and more birds. There is a small bridge towards the watch tower. We stood there. Manish found Prinias (Hindi: Foodki) funny. Being an avid traveler in the mountains, he saw birds but was never introduced to the names and the birding ecosystem. Haathe-khori hoye gelo! He could easily spot the Bee Eaters… We both were equally startled when a large black and brown bird flew low over our heads. The next set of photographs was taken from the bridge. (Of course there were more birds than I have photographed)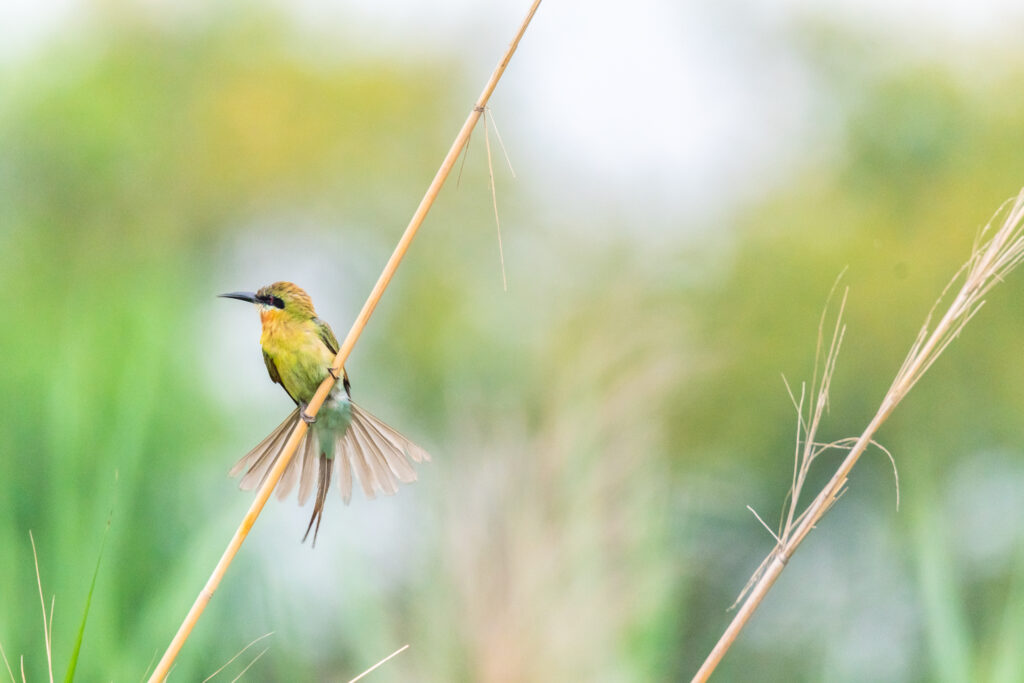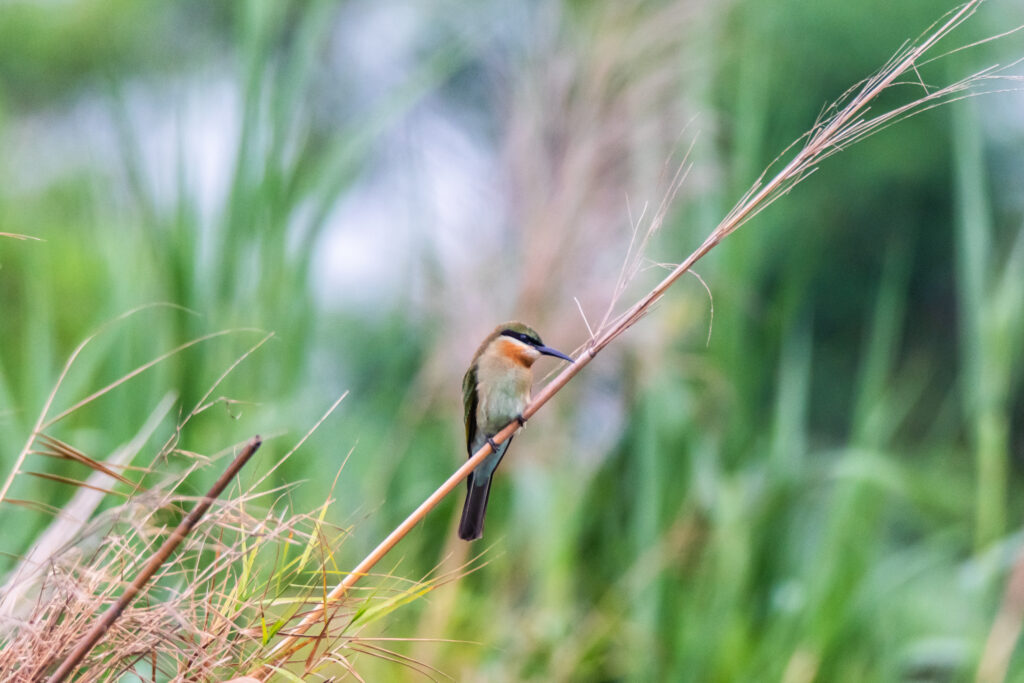 We heard the peacocks and we had to see them. I have never seen a Peacock in the wild before. I am new in the birding genre and also, the wildlife to be honest. My travels are limited to that of Sikkim and Bengal in India. I never got an opportunity to see Peacocks…. so I had to see one!
We went further, to the right was a field with buffaloes. I knew I am not heavier than a buffalo however much I might have gained weight. If the buffaloes were standing, I could also go there; and we did. We did not see Peacocks, but we saw the Red-naped Ibis, Red-wappled Lapwing, Purple Swamphen, more buffaloes, and one huge ass Deer-like animal.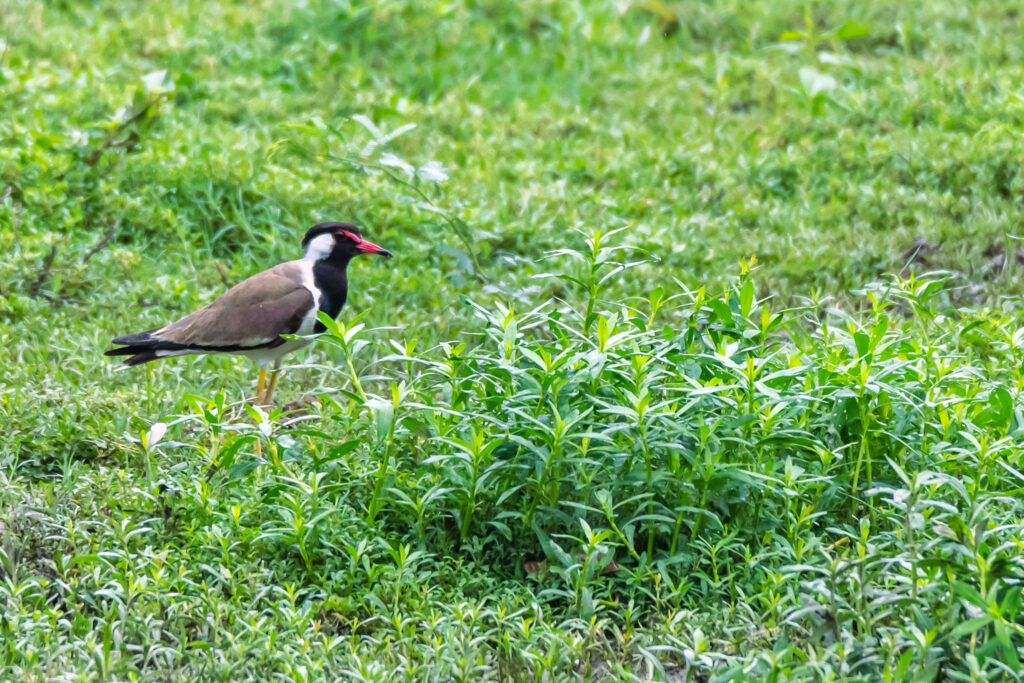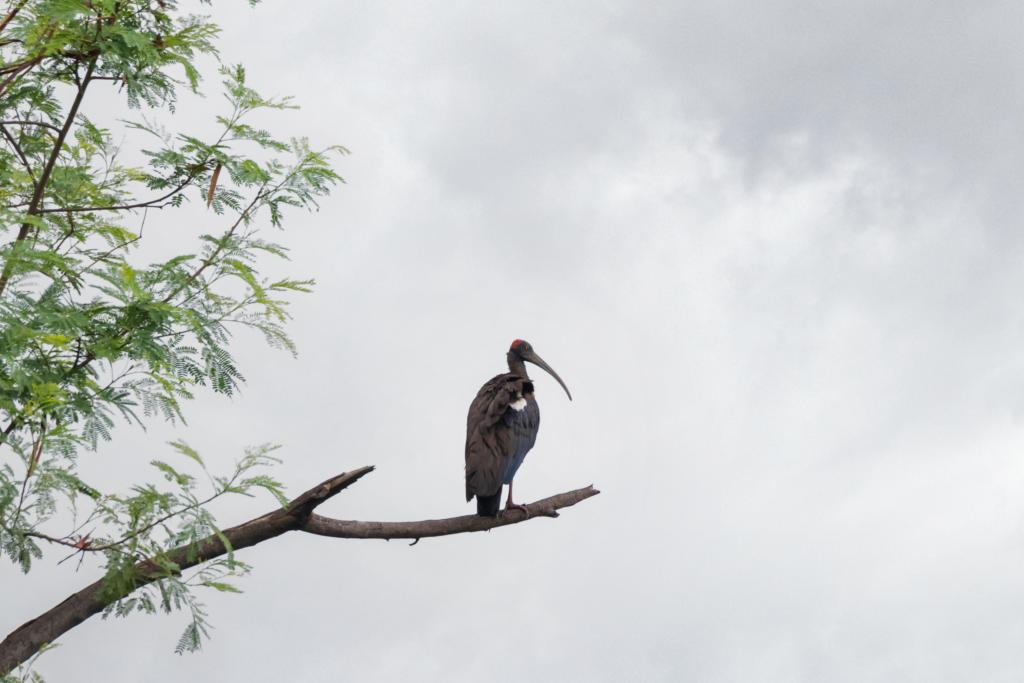 We heard the Peacocks again and this time, the call did not come from the field. We followed the call, and faced more cows. While I was concentrating on not getting hit by the cows or not stepping on the dung, Manish pretty audibly said, "Dada dada dada daaadaaaaa….. Mour!!!" I look in the direction he pointed and damn, it was so beautiful! The Peacock saw us and ran away. I followed it, and he then flew away. I turned to Manish and was amazed. He was trying to tell me something using hand gestures. Since the context was Peacocks and he seemed happy, I inferred that there is another Peacock. I walked up to him and… a Peacock was dancing right in front of us. Between the Peacock and us were 50 meters and a barbed wire fence. The fence had an open door beside it but we only discovered it while coming back, we jumped over it. I went ahead towards the Peacock.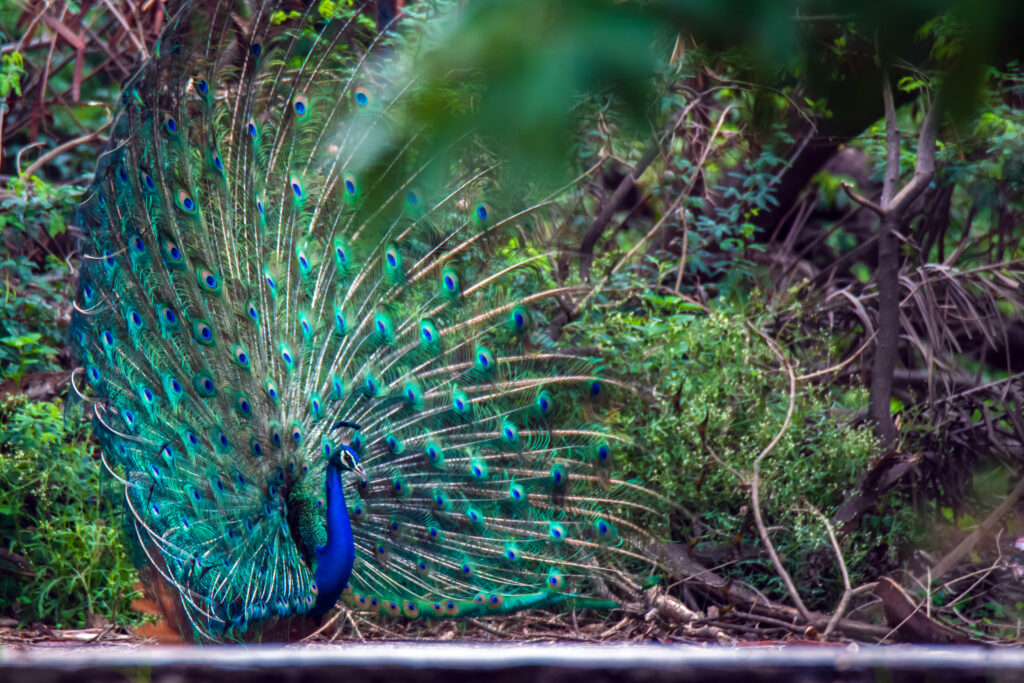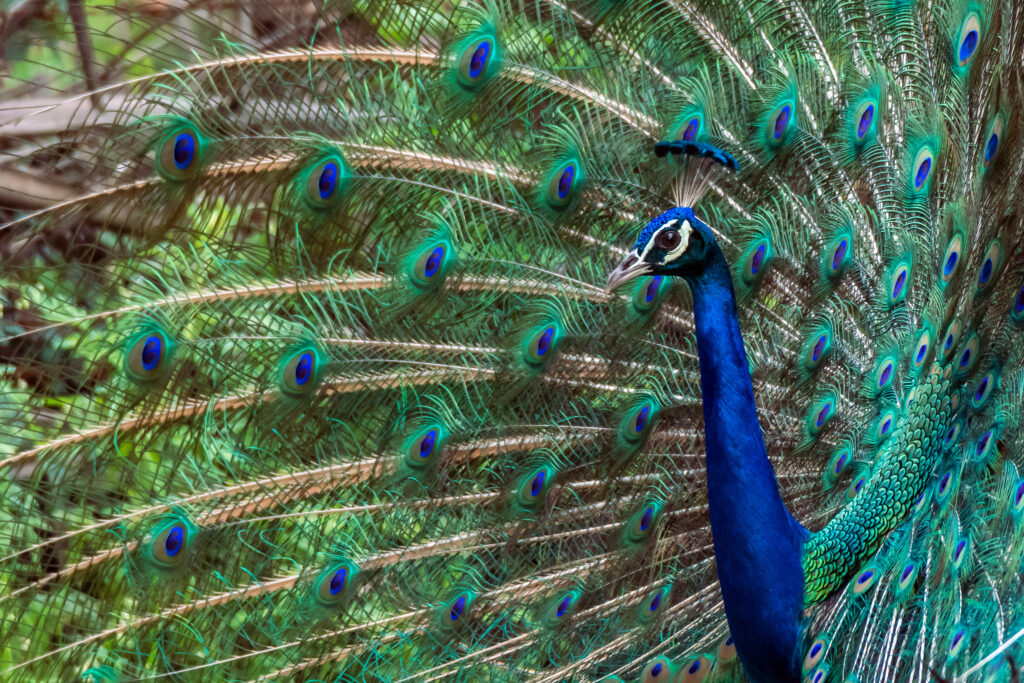 The Peacock wrapped up the dance and walked away to the pond. It was interesting because I assumed that this might be the peacock's home. We saw another one walking around.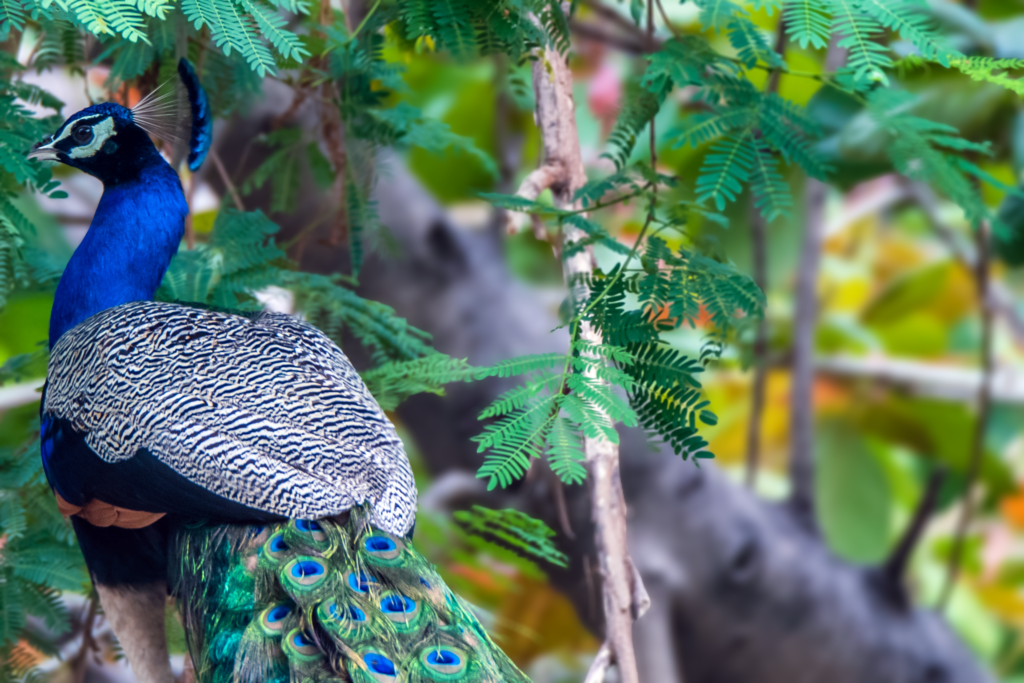 I was happy! I sat down while Manish was amusing himself by watching birds. He asked me, "Dada, what is that yellow bird?" I was not sure, I found the Cattle Egret… He pointed up, towards a tree… and we saw the home of the Yellow-footed Green Pigeon. I am not going to mention where this place is, because revealing it might not be a good idea. But photograph to bannta hain!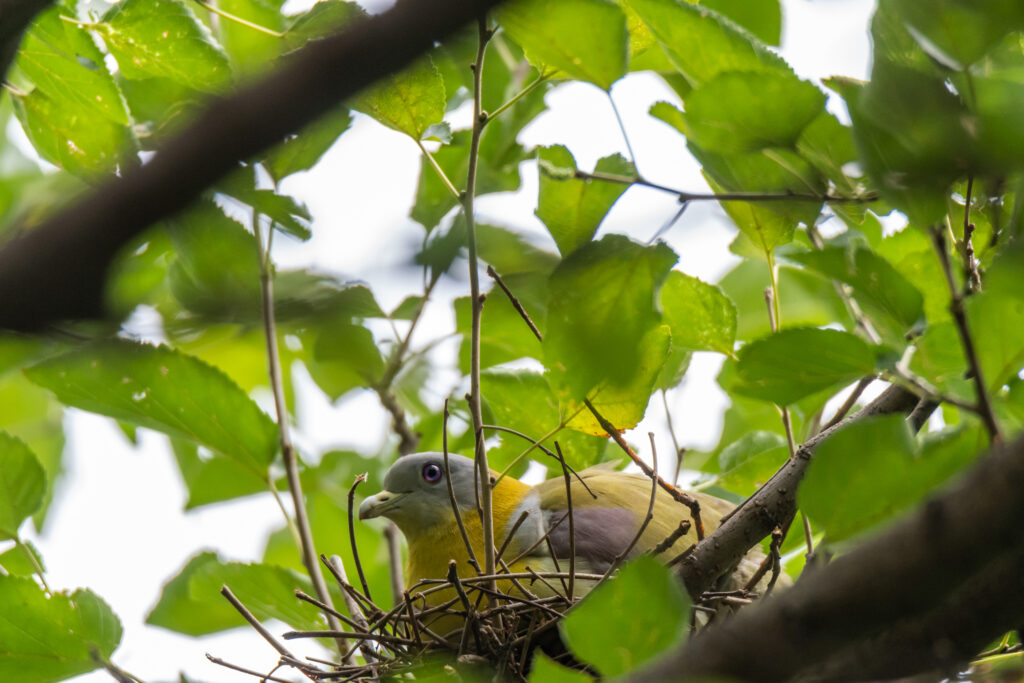 It stopped drizzling and the clouds were clearing up. We started walking back. While walking back, we found half of the benches now filled with young couples who couldn't find a room for themselves. They have my sympathies. We saw two more peacocks, one that walked ahead of us on the road and disappeared when it noticed us, and the other happily trying to attract a female. His female did not arrive but we did.
We walked back to Gate number 1 and drove back home. We walked over 7 kilometers inside the Sanctuary and it was such a happy feeling, being in the middle of nature and finally, I saw Peacocks!