Hinduism, the oldest religious tradition across the globe, and traditions older than history, since time immemorial, has evolved and sublimed within the realms of Human conscience. Believed to have formed of diverse traditions, it is considered to be the oldest living tradition in the world. Not only this, some historians are of the opinion that Hinduism is the root of the emergence of the other religions as well, though the proofs have been pretty much debatable and controversial.
Shiva, the God of Destruction is considered as one of the major Hindu Gods in the Hindu Triad.
This is the most appropriate moment to mention about "the Auspicious One" as this being the Shraavan month, as per Hindu Calendar (Last week of July to 3rd week of August), with the entrance of Sun into Cancer, and it is celebrate across the nation as the annual pilgrimage of His devotees.
According to the Puranas, Shiva is also known as the "Neel-kanth" as He drank the poison which emerged out of the giant snake, Vasuki, during the battle between the Gods and Demons for the "amrut" or the nectar of immortality, and with His yogic powers He managed to stop the poison from going further inside His body, but then again, His throat took the colour blue and since then He is worshipped as "Neel-kanth".
May Shiva bestow upon His devotees unconditional love, kindness, graciousness and the power to overcome their "samudra manthan".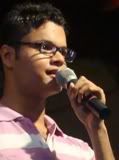 Post written by :  Rahul Nath
He is pursuing his graduation in media science from NSHM Institute of Media and Communication, and is a member of Ink'd Actorism. He is a very nice conversationalist and someone I love talking to. He is unequivocally the most "cranky" person I have met and irrevocably a freak !!! He chooses to live and believe in dreams and sleep-with-his-eyes-open and dares to believe in it !! This friend of mine is inspiring me with his writing and his speech 🙂 A true straight-on-face friend that he is, look out for more of his posts 🙂
Photograph: Anirban Saha Photography.
Show support, Hit the "like" button.