For a lot of young students who are into hiking, the Harz isn't the only option that you have! The Elbe Sandstone mountain in Saxony, which is around four hours away from Magdeburg and a little more than half an hour from Dresden, could be the heaven you can explore. There are weirdly beautiful mountains, forests, Brookes, remains of a stone castle, a stone bridge and a setup that you would want if you are directing a horror movie. If you like adventure, just go for it!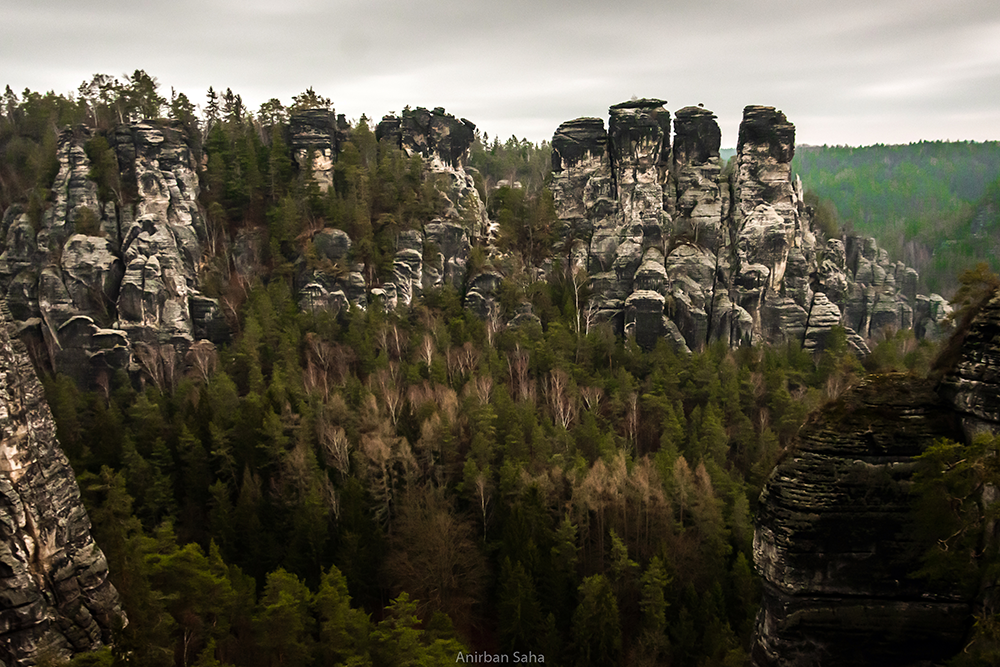 Saxony's Switzerland –
I haven't been to Switzerland yet, but Bollywood gave me an impression that it is beautiful. So when my friend told me about Saxony's Switzerland, I immediately knew it was going to be beautiful. Since I could not manage time to do any research, I did what I do, probably, best – outsource it to a bunch of friends who are into trekking. Soon there a group of six enthusiastic people, one Madhu, and one me, was formed. The next person to join was Venkatesh Murugadas (Venki), who had his birthday coinciding with the days of trek and he desperately wanted to not be in Magdeburg. So why not?
Shoutout!
Before we go any further, a big shoutout to Nitin Hegde, Joel John Philip for planning the entire mad trek and getting everything together! Thank you Madhuri Sajith, Rekha Sundar, Kartik Mudgal, Geetha Gopinath for getting along; Madhu for coming against all his wishes and Venki for spending his birthday with us.
Trip part 1: Magdeburg till the Ferry!
We boarded the train at six & we reached Dresden at around nine in the morning, and from there one train took us till the Königstein station. We got down and saw how beautiful the landscape is.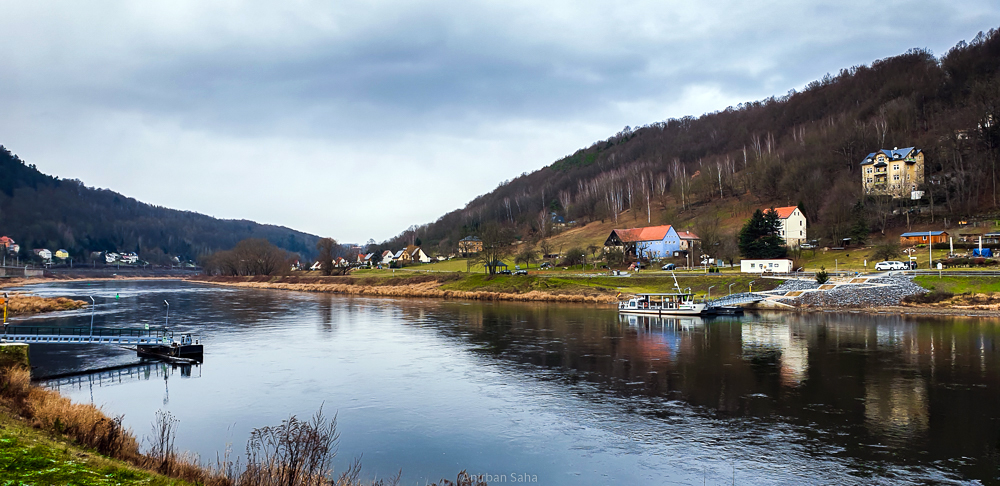 Trip part 2: Walking up till Lilienstein!
Ferried across the river, we started walking a really steep pathway that gradually led to less steep pathways into the jungle. The first time the path was flat was when we realised we are right in front of a farm; the mountain to the right and the castle to the far left. It had stopped drizzling but the clouds that made me a little gloomy.
The photographs below are in the slider format. If you are using a desktop/laptop then you need to click on the right side arrow to slide to the next image. In case you are using a mobile phone, just swipe the photograph!
The path since then was similar to any trek, a mix of everything – the climbing up and the going down, the stone pathways, staircases, and in a few cases, just boulders.
Madhu, Geetha and I were the tail to the rest of the group. Madhu hates walking. I am by default, slower than the rest. Geetha for some reason was slow during that stretch. But we had fun on the way, pausing, contemplating and photographing!
After walking for some time, I spotted a staircase, steep enough and led almost vertically upwards. Probably that was the way forward because the other route did not seem to have been used and went straight down the hill. So the staircase it was, one step at a time, the never-ending staircase led us to the top; And it was beautiful. However, we did not know that the top of Lilienstein had a north and a south end. While the rest of the herd was in the north, the tail reached the south. After a brief confusion, we reunited!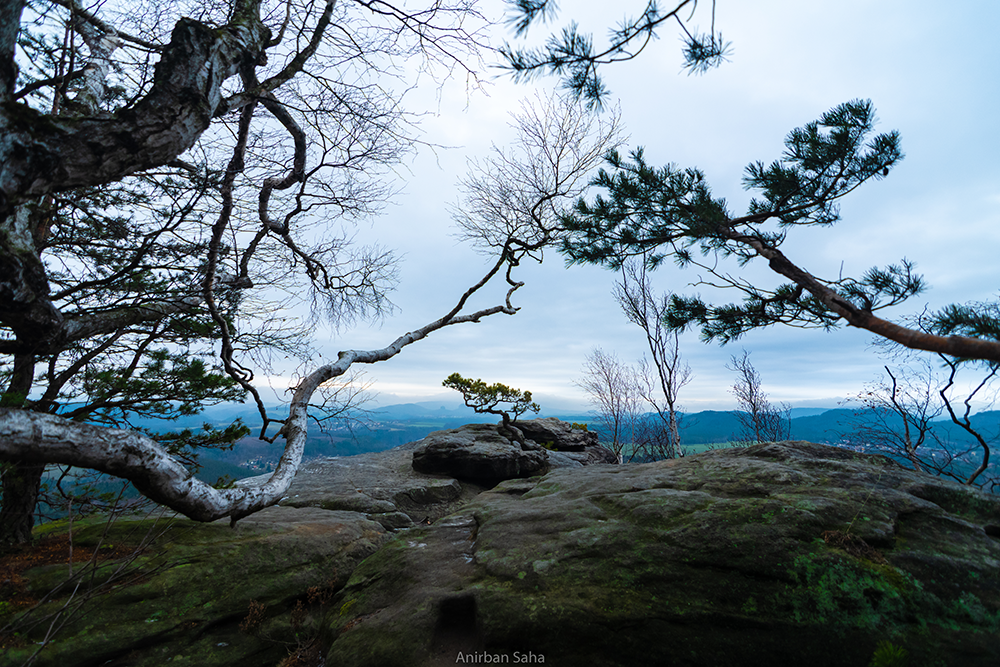 Trip part 3: Climbing down, rolling down, falling down and the scare!
The path near the staircase which shouldn't have been the way forward, was our next path. During times like these, I wish I was a Panda, who could just roll down a hill. But I am not.
For a considerable period of time, I was really tense about Madhu. My only "trek" with him was a lovely long walk up the Harz. I really wasn't sure if he would be comfortable with this or perhaps could do it at all. I took cautious cat steps forward, tripped down around six times, used a really long branch of a tree to check if the ground in front is firm enough to support me. I looked back to find Madhu making a video of me struggling and often, falling down. I asked him to come down cautiously. But damn! In that jungle, he was a Tarzan.
Soon we reached considerably flat earth, a farm and subsequently a street that should have taken us to the Bastei stone bridge. But then, we were around one and a half hour late and we were one adventurous group for just no reason. We took a sudden left abandoned path. It looked abandoned. It felt abandoned. But it looked either comfortably flat or at least not-ambitiously steep.
Let's digress a little here: during childhood, I was taught to walk looking down on the street, especially where I put my foot. The core mission was to not step on a dog or a cat poop, on the lanes of north Calcutta. Then I grew up, but this habit remains. There is clearly no dog poop around in Magdeburg, but I still do it at 30.
Coming back to the story: So we were walking. Instead of looking here and here, I looked down; pained as I was after falling down six times, shocked as I was after finding out the hidden Tarzan in Madhu and amused as I was to find out I continued to remain the tail of the group, I walked, looking down. Sooner than I would like to believe it was, I realized I am stepping on a path that is hardly three and a half inches from something which is basically a cliff. I paused and I looked up, then left and then right. To my left was a cliff. To my right was a really steep slope that went all the way down. That moment I felt what fear is.
Technically, it wasn't a third as tough as the caving in Meghalaya or most of the few treks that I have done in northeastern India. But then I was young. Now, I am six years older, a dozen kilos heavier and definitely unfit. Even for a fraction of a moment, I freaked out and thought I wouldn't make it without hurting myself. With Joe cheer-leading in front of me and Tarzan behind me, I could actually make it without hurting me. LOL. But I would remember this moment for a long time in my life.
We reached some sort of flat earth again and walked for over an hour to reach the kurort rathen village. Wait, I should show you a photograph!
Trip part 4: Climbing up again & Bastei Stone Bridge.
Here's the big moment of the day – the stone bridge of Bastei.
Wikipedia mentions, the Bastei has been a tourist attraction for over 200 years. The people initially made a wooden bridge and later in 1851, made the stone bridge to connect the several rocks for the visitors. Bastei (Bastion) refers to the steep, towering rocks forming the defensive ring around the Neurathen Castle. The Neurathen Castle was once the largest single-rock castle in the region. According to their official website, the earliest confirmed reference to this stone castle is made in later twelve hundreds. That makes this at least eight hundred years old.
I was very excited to see this. But what led to finally seeing this was another walking up the hill. By this time, I could hardly feel my left toe or both of my thighs. But the effort was worth it and I'll show you photographs (slider) now.
Trip part 5: AirBnB and the end.
Our accommodation was cheap and was around one hour and a real sense of discovery away from the Bastei Bridge. The walk from the Bastei Bridge was surreal: the initial stretch had no footpath, with dense forests on both sides of the road. While a footpath appeared after a few metres, there were no street lights. We switched our torches on. A few of us, including me, played around with it, pretending to be ghosts. Trust me, it is not funny when the wind makes an eerie sound with all the trees and the leaves in the jungle. After a few kilometers, we took a right into the forest; nine hundred and a few more metres later came a small brook, by the side of which was our AirBnB accommodation. In between there were drizzle, frustrations and a bunch of hungry young travellers.
We were hungry and everyone preferred to make food over trying to switch the heater on properly. I decided to pretend like a teddy bear sitting in one place, eating, getting wrapped to bed for a good night sleep.
Madhu did not wish to go for another trek the next day. My thighs might not have supported as well. After he got ready at around eleven in the morning, we strolled down the streets stopping at multiple souvenir shops, food joints, and one cafe to just chill. The best part of the two days was being completely off the grid! The phone connections did not work anyway.
My Tips!
If your intent is to chill, maybe space things a little bit. Stop at places, chill and if you are into photography, then photograph. The budget is considerably very less (around 50€) per head. My friends packed all the food! I probably would not have done that but yes, this can be a way to lower your budget.