Did you ever pick up an engraved wooden block up, dip it into the colour and print that on a sheet of cloth? If you haven't, you've no clue how incredible it feels. The Future of the Past's participant – The Chhapakhana Trails had given us this unique opportunity to experience this and many more.
The Future of the Past (TFOTP) is an initiative by Paramita Saha of Arts Forward. It aims to create a space for different art forms to collide, interact and give birth to a new language, revolving around the heritage of Kolkata.
While the first edition of TFOTP focussed on the heritage buildings, the second worked closely with the heritage communities. Of the participants to this programme was "Chhapakhana trails" by Priyanka Chatterjee who worked on the community in Calcutta who were into printing.
Kolkata, the city where I live and have grown up in is a city of paradoxes. Very fondly called the cultural capital and the city of literature, this city also registers the least sales of books in metropolitan cities and cannot boast of too many modern bookstores. However, the college street is abuzz with smaller shops, second-hand book stores where people come and read books. Discussions over umpteen cups of tea and coffee brainstorming over how a particular sentence should have been written and other intellectual discussions; this city also celebrates three major literature festivals and the world's largest book fair. "But when it comes to reading books, people love to borrow books or go to library", said Maina Bhagat in one of her interviews to The Times of India.
Did you know: Kolkata & East India account to 7 – 10% of English book sales?
A friend insists that the Bengali publishing houses must be making profits else they would not sustain, although there is no proper research done. The rise of online selling has given the rural Bengal an opportunity to order for books, the number of book fairs have increased outside Kolkata. The International Kolkata Book Fair registers a year-on-year revenue growth, however this year there was a slight dip and the reason cited in the press conference was the recent demonetisation move by the Government of India.
However, Bengali and Calcutta has apparently lost the relevance in the broader picture. Again paradoxes, Calcutta is the third biggest revenue generating Indian city, third most populated in India, tenth in the world with a very rich tradition which is left to die. Young Bengalis uncomfortably speak in Hindi with their Bengali Ola Drivers who respond to them in broken Hindi. The city-bred Bengali prides on the fact that English is almost their mother tongue and that they are hardly equipped with Bengali knowledge. Yours Truly is no different but learning. I'll not even go to the extent that we have forgotten Bhoot Chaturdoshi but celebrate Diwali, forgotten Dol Jatra but celebrate Holi and have forgotten a lot of incredibly native Bengali traditions and have given in to the Hindi imposition.
Bengali is the second most spoken language in India (mother tongue of 8% population), Bengalis established the two major political parties Congress and BJP, the 4th highest Lok Sabha member contributor TMC is primarily from Bengal. Except for the President, there's no Bengali in the top slot in Indian politics. Bengali is 6th most spoken language in the world and Bengalis are the reason why we have the International Mother Language Day. However, the UNESCO video of 2017 comfortably forgets to mention Bangla (link). Further cribbing would not help because these are suggestions enough to establish that the Bengali language is losing its relevance in today's national picture.
With this as context, Priyanka Chatterjee planned "Chhapakhana Trail", a walk to showcase to the participants the rich Bengali tradition in printing and publishing. After the walk, we then continued to the home of Vidyasagar, where various activities were planned.
I'll end this post with a few pointers from the walk and a video which would brief you through the history of Bengali publishing.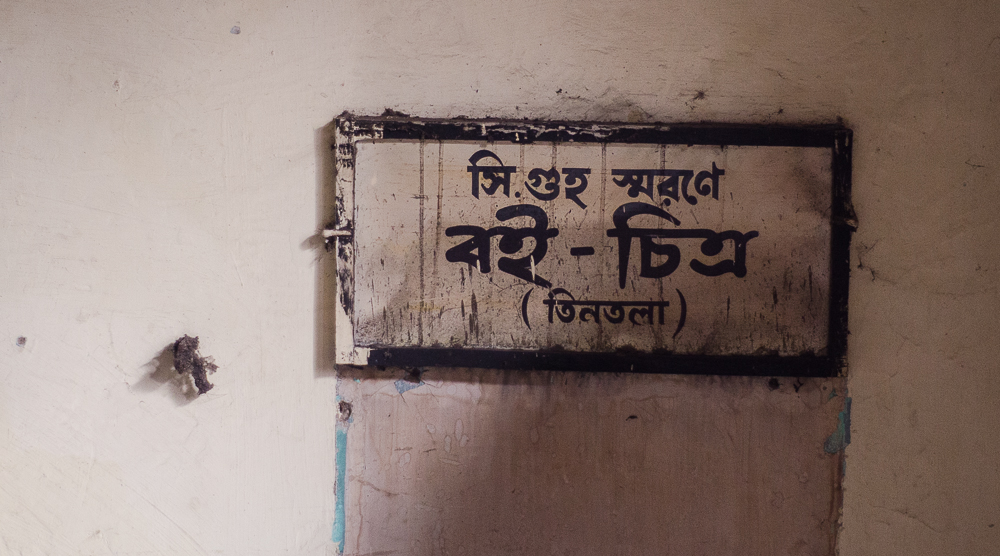 Boi Chitra: Located on the third floor of the celebrated Indian Coffee House, this is one of the earliest studio built by Charuchandra Guha in the 1920's. In 1924, they were the first ones to use electric light in India. The furniture there dates back to the colonial era and have exquisite designs.
Just near to the Indian Coffee House are the legendary Presidency College, Hindu School and the Sanskrit College. Presidency College, which is celebrating 200 years, was formerly known as the Hindoo college. One of the founding members of Hindoo College, Ram Kamal Sen, who owned the place, Albert Hall, which is now the Indian Coffee House.
His grandson made the Albert Institute which became the hub of political discussions. Stalwarts like Tagore and Bose also spoke there.
Sanskrit College is the oldest structure in the region, established in 1817. People associated with this college include Henry Derozio (wrote sonnets, Brit who loved Bengal. For ICSE students, his poem "The Harp of India" is in class 10 syllabus and is one of the toughest to explain), Iswarchandra Vidyasagar. Vidyasagar, he was called because he was regarded the ocean of knowledge. He studied in this college, became the professor here and gradually went on to become the Principal. Bengalis know him as the person who wrote Barnoporichoy – the collection of Bengali alphabets as we know them today; is still the first face any student has to see when they try to learn the Bengali language. As a social reformist, he made education more secular and started widow remarriage in Indian society.
Vidyasagar in 1857-58 during the first Indian war of Independence, the erstwhile Sepoy Mutiny, had allegedly given shelter to British soldiers in this building. The naxalites got offended by this and chopped his head off from his statue during 1970's as a mark of revenge and threw it to the college square lake. However, the head was brought back and one of the oldest statues that this is, is restored.
Cygnet Press:  They went out of business in 1990's and their bookstore is acquired by Ananda Publishers. They were thought leaders of their age and made book making the way we know it now. They pioneered in book cover designing and making it more artistic, font designs or typefaces. They also encouraged poetry books. Satyajit Ray worked in this press as a cover designer.
Sanjibani Press:  This is Keshav Kumar Mitra's home where Rishi Aurobindo lived here during 1909. Keshav Mitra was a Brahmo reformer and Aurobindo was his nephew. Keshav Mitra started Sanjibani and that became the nationalist mouthpiece. This press is one of the earliest and has Rishi Aurobindo's name associated with it.
Baptist Mission Students Hall: Baptist Mission Church has a lion's share of books published in 19th Century Bengal.
Hemendro Mohan Bose – Okay, this is something very interesting. While we now fiddle with the concept of product placement in stories and films or even Influencer marketing, this person Hemendro Mohan Bose appears to have mastered it during late 1800's. He was an entrepreneur who made "Kuntalin hair oil". Later he established his own press, the Kuntalin Press. He later instituted an award, the Kuntalin award. According to the guides of this project and not verified by me – the award was given to a writer who had excelled in creating literature and in most innovative ways used Kuntalin hair oil in their stories.
Do let me know if you've enjoyed reading this post and if this has added any value to your life. If you want to have a detailed description of the Chhapakhana Trail walk, do check my colleague Subhadrika's blog post by clicking here.
This year's TFOTP – Chhapakhana Trails was fun! We encourage more people to join us while we create the third edition of The Future of the Past. Let's rediscover our heritage.